On November 16th the San Mateo City Council approved a plan for the City to pilot a bike share program beginning May of 2016 in pursuit of sustainable transportation.
The City is funding the purchase of the bicycles and plans to offset the operating costs with user fees and local partner sponsorships. The program will be run by Social Bicycles, a bike-share company, and Bikes Make Life Better, a local bicycle company that runs bike share programs throughout the bay area.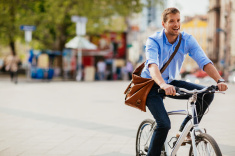 The plan includes 50 bicycles and 10 to 12 bike stations to park the bikes throughout San Mateo, conveniently located near Caltrain stations, high-density residential areas, and major employment centers. Riders will also be able to park the bikes at regular bike parking racks, including mid-reservation, making this system more accessible to riders than other programs that need to be locked at specific docking stations.
Bicycles can easily be reserved and paid for through the Social Bicycles website, app, or the bike's keypad itself. Bikes will cost $15 a month to rent under the membership plan, which includes one hour per day of use. To use the bike for additional time or as an occasional user, riders will pay a $5 per hour pay-as-you-go rate.
By adopting the bike share program, San Mateo will join Portland and Santa Monica which already have the Social Bicycles program in place. Social Bicycles hopes to eventually launch a regional bike share system that will include use in nearby cities on the Peninsula and the greater area.
The bike-share program is another step forward in pursuing the City's mission of having more sustainable transportation. This program that is revolutionary, flexible, and convenient for users is a key component of this vision.