Who's ready for Halloween Fun! The spookiest night of the year is quickly approaching and San Mateo has a great round-up of Halloween events for the entire community to enjoy. From the San Mateo Main Library, to Downtown San Mateo, and Hillsdale Shopping Center, this is just a sampling of the frightfully fun events taking place around town. Visit our event calendar for more Halloween events.
Halloween Tween Evenings: Zombie Edition
Tweens (5th-8th grade) are invited to our Zombie-themed Halloween Tween Evening taking place Friday, October 28th from 5:00-7:30 pm. Join us for zombie games, prizes, and more! Registration is required and limited to 40 participants. Sign-up by calling the Children's Desk at 650-522-7838. Please note that due to the nature of the program we can not accommodate late arrivals or early pick-ups. The doors close at 5:15 pm. Adults are asked to drop their children off and return promptly at 7:30 pm for pick-up. Because the library will be closed during the program, adults are not permitted to stay in the library.
Draper University Haunted House
Draper University's Haunted House screams Halloween fun, and it may be your one and only chance to explore Draper University! The downtown university is creaking open its doors for a spooky haunted house. Stop by Saturday,  October 29th, from 11 am-5 pm to see what type of Halloween revelry these entrepreneurs and innovators can create. Tickets are $5.
Halloween Hunt Downtown San Mateo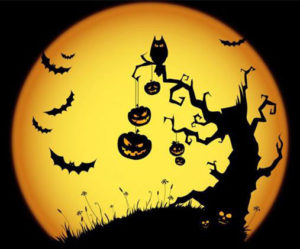 This FREE, fun family event invites you to discover unique shops and restaurants while trick-or-treating through the downtown. Children will receive a Halloween Hunt game card and a goodie bag for treats. Find the Halloween image in the windows of participating shops, then just go in and say hello to the merchant to get your treat!  Game cards will be available at Scandinavian Designs at 317 S. B Street beginning at 1:00 PM. Participating kids and families can enjoy the hunt at their own pace.  Costumes are encouraged! Don't miss the fun – NO RSVP is needed. For more information, please visit the Downtown San Mateo Association.
Halloween Spooktacular
The Halloween Spook-tacular tradition continues with an evening filled with treats and trickery! Kids under 12 are invited to enjoy fun entertainment, and crafts and parade the Center in their costumed finery collecting treats along the way. Trick or Treating from 5-6 pm ONLY and entertainment from 5-7 pm. The event is free.